MACMA Partnership with ACE
Did you know that the MACMA has a special partnership with the American Council on Exercise? In addition to earning continuing education credits (CEC's) at the MACMA Conference, this partnership offers clubs several other benefits:
20% discount on all ACE text books and study materials
$40 off first-time exam fees
a listing for each club on the ACE Health Club Locator
Access for all clubs to Gymjob.com, ACE's job board
Remember, you can earn CEC's at the MACMA Conference. In the meantime, use the information above to make great use of the MACMA partnership with ACE!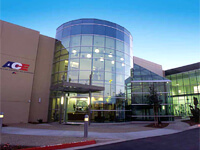 The American Council on Exercise (ACE) is a non-profit organization committed to the overall health and well-being of the general population. Founded in 1985, ACE is the country's leading authority on fitness and one of the largest global fitness certification, education and training organizations with more than 50,000 certified professionals worldwide.
It is also an established resource for comprehensive, unbiased, scientific research impacting today's fitness industry. ACE publications, study materials and courses have successfully prepared thousands of candidates to become certified.
Learn more about The American Council on Exercise
ACE CERTIFICATIONS
ACE has been granted accreditation by the National Commission for Certifying Agencies (NCCA) for all four of its fitness certification programs: Personal Trainer, Group Fitness Instructor, Lifestyle + Weight Management, and Advanced Health + Fitness Specialist. ACE was the first to earn NCCA-accreditation for a group fitness program, and remains the only fitness certification organization to offer an accredited certification for Lifestyle & Weight Management Consultant.





CONTINUING EDUCATION
From workshops to webinars, the ACE ConEd Center offers more than 3,000 continuing education courses available in a variety of the most relevant topics and formats to meet the ever-changing needs of the fitness professional. Search ACE's online portal by topic, CEC value, provider and/or date ranges to locate the course tailored to fit your needs, career interests and learning style. ACE also provides a list of best-selling and top-rated courses currently available.
Learn more about ACE Continuing Education
.
Fitness Service Specialist
Two of the biggest challenge that all fitness clubs are facing is retaining members and recruiting new ones. As a club owner or manager, one of the most important tools you can provide your staff to overcome these hurdles is customer service training. According to leading experts, exceptional customer service is arguably the most significant edge that an organization can have in the highly-competitive health and fitness industry.
In addition to having a passion for fitness and an understanding of the industry, each person on your team should always deliver the highest level of customer service and assist members with basic health- and fitness-related questions with confidence, ease and courtesy.
The American Council on Exercise® (ACE®) has designed a unique online course to help you consistently deliver first-class customer service – or what we like to refer to as fitness service – training to all of your staff members.
Learn more about the ACE Fitness Service Specialist Course
.